Featured Client Installations
The following installations show some good examples on how our clients have integrated our products into their workflow to provide state of the art putting analysis and training.
Club Champion offer custom fitting and building process. Throughout the USA 11 store locations are equipped with SAM PuttLab. Read more…
"We offer an experience that goes far beyond the standard procedure with 3D swing analysis, SAM BalanceLab and PuttLab. Read more…
David Thomas is a PGA Pro originally from Brisbane. He lives in Germany since 1999 and is running 2 golf schools near Frankfurt. Read more…
As the first golf club in turkey Carya Golf Club integrates the advanced technology of Science&Motion Sports. Read more…
Chris Brook is an international coach working with golfers throughout the world. His speciality is in golf biomechanics and putting. Read more…
At James Harper Golf our aim is to bring the highest level of club-building and custom-fit to the North East of England. Read more…
In 2011 the founder of 'The Club Fix', Bronson Wright, added SAM PuttLab to support their mission to educate golfers about equipment. Read more…
Golfers Paradise, the largest Swiss golf retailer has now incorporated the SAM PuttLab into seven of their stores. Read more…
In 2011 the founder of 'The Club Fix', Bronson Wright, added SAM PuttLab to support their mission to educate golfers about equipment. Read more…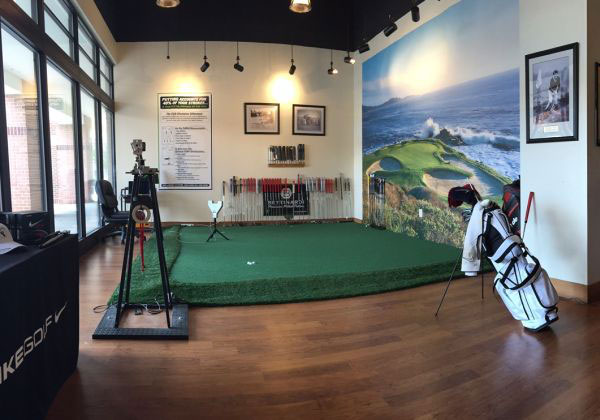 Club Champion offer custom fitting and building process. Throughout the United States 11 store locations are equipped with SAM PuttLab.
Nick Sherburne, Dean of Club Champion University:
"At Club Champion we evaluate all new technology to make sure we provide the very best experience for our clients. Putting also being 40% of the game we take very seriously to help our clients shoot lower scores.
After testing or owning about all of the major putting analysis tools we came to the conclusion that SAM not only gave the best most well rounded data but also put it in a simple interface allowing the customer to understand the data."
Putting area
"Since standardizing on SAM we have seen our putter fittings really take off. The client not only understands what the fitter is saying but also gets to see the results easily displayed on the screen.
Allowing for the client to really feel like they have found the right fit because they can see the data right in front of them."
SAM PuttLab fitting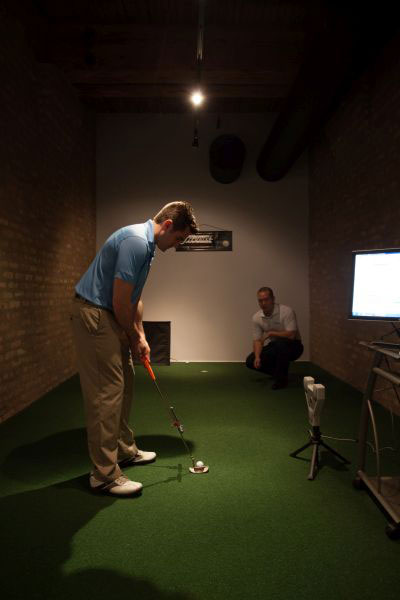 Nick Sherburne continues:
"The best part of SAM though is simply the results. The recommendations and information SAM gives our fitters allows them to make an immediate impact on a player's game. As our Golf Digest study proved 8 out 9 players improved as much as 6 strokes with our fittings and SAM played a big part in that improvement."
About Club Champion
At Club Champion we make the best golf clubs even better through our proven custom fitting and building process. We offer 15.000 hittable, interchangeable head and shaft combinations; all the top brands and the best trained master fitters and club builders in the country.
Putt analysis with SAM PuttLab
Julian Wuttke, Golf Professional (PGA of Germany):
"We offer an experience that goes far beyond the standard procedure = intense fitting with 3D swing analysis, SAM BalanceLab and PuttLab.
When you book a fitting at the TaylorMade Center of Excellence you spend more than two hours using the latest technology and being guided by professional fitters to improve your golf game."
"Since more than three years we use SAM Putt- and BalanceLab and it is a vital part of the consumers' experience. Combined with the 3D analysis MAT-T (Motion Technology by TaylorMade) and a Launch Monitor you can have a fitting that is second-to-none."
Robert Taylor (Club fitter and builder):
"Following the fitting experience our club technicians can build the golf clubs to the exact recommended specifications in our in-house workshop."
Balance analysis with SAM BalanceLab
To analyze full swing David combines BalanceLab, FlightScope, KVest and two Scope video systems:
David Thomas is a PGA Golf Professional originally from Brisbane, Australia. He lives and works in Germany as a teaching professional since 1999 and is currently running two golf schools near Frankfurt. 
David: "Over the years I have always believed in the fact that you must spend money to make money, and it is very important to attract new students while continuing to work and progress with the current ones."
SAM BalanceLab
David goes onto to say:
"This year I added a SAM PuttLab and SAM BalanceLab to my training aids. I now work with 2 Scope Video Systems, Flightscope and KVest and have built my own indoor training center to enable training all year round. I believe through the correct use of technology you can create a better learning environment for your students while gaining knowledge and data for yourself as a teacher."
Complete SAM PuttLab setup incl. PuttStation for easier and faster measurements and touch monitor:
David continues:
"I enjoy using the SAM PuttLab with all my students, it gives immediate insight (positive or negative) in to any movements or thoughts in your students putting technique. In addition the putting station allows the student to monitor his or her progress after any changes have occurred, for example in posture, tempo or grip."
Golfpark Gut Hühnerhof
Am Golfplatz 1
63584 Gründau
Link to Website – Golfclub Gut Hühnerhof
Contact details David Thomas:
info@dt-golf.de or +49 174 2842950
Mehmet Ceylan (Headpro/Headfitter) presents his BalanceLab and PuttLab, the Hitting Bay and the flood light course:
As the first golf club in turkey Carya Golf Club integrates the advanced technology of Science and Motion Sports.
In combination with their 3D camera system and their launch monitors they are able to give a high-end fitting experience to their customers. Golfers from all over the world can visit Carya Golf Club to get a completely fitted putter or to improve their balance in the full swing.
Putting analysis using SAM PuttLab on Chris's premium all weather 30ft green with multiple highspeed cameras: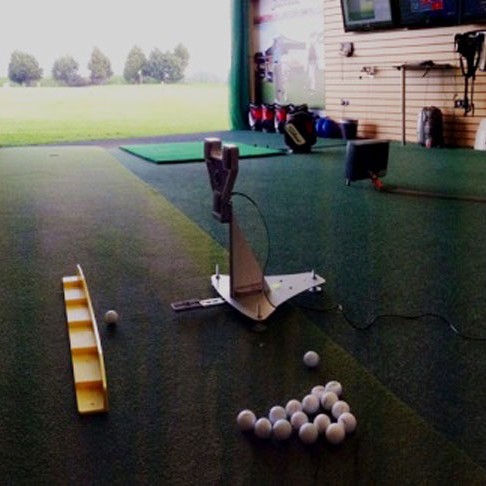 In his own world class performance golf lab Chris Brook has installed the very best analysis equipment available and recently added a SAM BalanceLab to go with his SAM PuttLab system, TrackMan, K-Vest 6D, GASP Lab with high speed cameras and 30ft All Weather Premium Huxley Green.
Chris told Science&Motion Sports "to be able to coach at the highest level it's vital to invest in the best analysis equipment – and for putting and force plates I believe that Science&Motion provide the world's best products".
Chris goes onto to say "Technology like this has enabled me to precisely concentrate on the adjustments that really achieve the results I want to see with my players. The success I am having as a result of having the correct information using SAM products is proof that nurture is capable of competing with nature".
SAM BalanceLab integrates into video analysis software:
Chris Brook calls his SAM PuttLab his MRI scanner because very quickly it provides all the data he needs to understand the workings and issues of a player's stroke. The extended training program enables Chris to have instant feedback on each stroke as evidence that the changes being made are producing the desired results.
"It takes all the guess work away and provides the player with concrete evidence that what I'm asking them to change is improving stroke dynamics."
Having the combination of Balance Lab and K-Vest 6D Chris has been able to take players to another level in their swing dynamics.
Chris Brook's Performance Golf Lab SAM BalanceLab installed into mat:
Chris Brook says "I have been working with one of my tour players over the past year on his kinematic sequence to deliver more power to the ball. We discovered through SAM BalanceLab that not enough ground reaction force and pressure was not transferring onto the left heel and into the right toe as we expected during the early stage of his downswing. This was causing difficulties in stabilizing his pelvis and was leaking rotational speed.
With the SAM BalanceLab data we were able to quickly rectify this and produce tour optimum pelvis speed".
At James Harper Golf our aim is to bring the highest level of club-building and custom-fit to the North East of England. Being able to utilize the world leading technology of SAM PuttLab on our premium indoor putting surface, truly helps us towards achieving this aim.
James Harper (Golfsmith Advanced Clubfitter / Clubmaker):
Using the detailed reports to check for critical factors such as aim, path, rotation, timing, ball roll etc., we have been able to gain real insight into why people get particular problems or patterns of performance with their putting. Information we would never have been able to pick up using a video camera or the naked eye alone.
Professional Putter Fitting
Video analysis of posture
James continues:
We have also been using the technology to help re-educate people in sound putting fundamentals, the mechanics of a reliable putting stroke and the importance of properly fit putter. As a direct result of SAM PuttLab we have seen some dramatic improvements in clients putting performance, ultimately leading to lower scores on the golf course (and a few tournament wins!).
We see SAM PuttLab as an absolutely invaluable tool at our facility and look forward to helping many more golfers with their putters and putting strokes over the years to come.
Bronson Wright, Founder/President of 'The Club Fix': 
"I did a lot of research before I made a final decision on which putter fitting system I wanted to use in my putting lab. There are a few different choices out there and after doing the research it was really an easy decision. Sam PuttLab has been the starting point and the leader in technology as far as I was and am concerned."
"There is no other software out there that gives you as much data and is also easy for the client to understand. I even had a custom putter designer come to my studio instead of using his because he is in the transition of changing his current software from the old system to a new Sam PuttLab system. He didn't want the Touring professional to use his system anymore and made and extra hour drive to come and use my putting lab instead.
That right there shows you how incredible this unit really is. I've done tutorials and custom fittings for all different kinds of people and the results are always the same. The person leaves with a better putter!"
"We went from 2- 4 putter fittings a month to 25- 30 fittings per month since we installed our new Sam Puttlab fitting studio. There is no other machine or software I see us using ever in the future. You can't find an easier to use comprehensive unit on the market and that is why I'm happy with the decision that I made in getting the Sam."
Golfers Paradise, the largest Swiss golf retailer has now incorporated the Science&Motion SAM PuttLab into seven of their stores. The purpose is to support custom fitting of putters during the selling process. Inside each of these shops the Golfers Paradise staff have gone through a specially designed fitting and sales education presented by the Science&Motion Sports team.
This education has been designed to enable them to consult and properly fit their customers during the putter fitting with a holistic approach. During the session, The Sam PuttLab collects the data from the individual customers putting stroke and compares it with more than 100 PGA tour professional results. Within 10 minutes the customer gets a clear message as to which putter fits the individual players stroke. The results are automatically calculated, selected and presented to the shop staff and to the customer. SAM PuttLab is the only putting analysis system that gives a total overview of each putting stroke.
Markus Scherrer, Sales Manager of Golfers Paradise: "With the Science&Motion PuttLab we have increased our activities immensely. Our goal was to use the best technology and help our customers as much as possible. Our customers now have the opportunity to compare from more than 300 putters models to find their best personal fitted putter".
Frank Honisch, Business Development Manager of SAM Sports: "With the new changes of SAM PuttLab for the retail environment we can now support the retailers during their putter sales and individual fitting process. It is now very convenient for the shop staff to run a perfect analysis and select or fit the best putter for a customer in minutes. For the consumer, it is always an exciting experience to get an overview of their putting stroke. Selecting the putter with the best performance for the player just isn't possible without SAM PuttLab. Science&Motion Sports is now offering service oriented sales trainings and certifications for shop members including PuttLab as a highly professional sales tool. It is a turnkey solution for the retailers."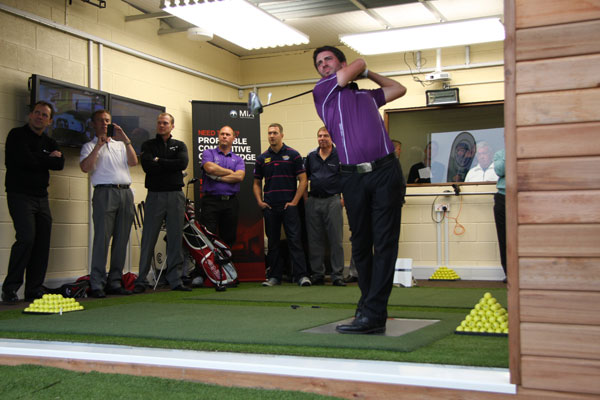 MIA Sports Technology has completed the opening of two state of the art teaching academy bays at the Leeds Golf Centre, West Yorkshire, United Kingdom. The official opening was conducted by a trio of Yorkshire sporting talent including Leeds Rhino Danny McGuire, European Tour Professionals Danny Willet and John Parry.
The new studio is one of the most advanced anywhere in Europe and deploys FlightScope, hi speed V1 PRO video analysis software, SAM PuttLab, SAM BalanceLab and E6 Simulation technologies integrated within two purpose built rooms.
SAM BalanceLab fully integrated into the floor and SAM PuttLab with video camera:
Simon Keast, Academy Solutions Specialist for MIA Sports Technology commented:
'What separates Leeds from the crowd is the level of technology deployed and the attention to detail. Every aspect has been considered from the high frequency fluorescent lighting, cabling infrastructure, flooring and the multi tee positions allowing a full outdoor experience to combine with a full indoor option, including golf course simulation.'
New installations will be added soon.
Follow our Facebook page and Twitter to stay up to date…