SAM Academy Education
Movement science and research have been the foundation of developing SAM PuttLab. Educate yourself with videos and documents around our teaching / coaching concepts and our products.
Learn more about the SAM Putting Parameters, PGA Tour Players Data, Fundamentals of Putting and Yips Cure.
Find educational videos about SAM BallTracker and Projection, and re-watch our latest SAM PuttStudio live online events.
Watch videos about the SAM BalanceLab Performance Parameters and find some easy drills for a better balance.
Putting Parameters
Video series about the most important SAM PuttLab parameters and their influence on the putting performance (YouTube playlist).
PGA Tour Players Data
Video about the SAM PuttLab PGA Tour Players Data and the changes in putt performance over the last years.
Fundamentals of Putting
Article series that introduces into the concept of the 6 Pundamental Aspects of Putting by SAM Academy.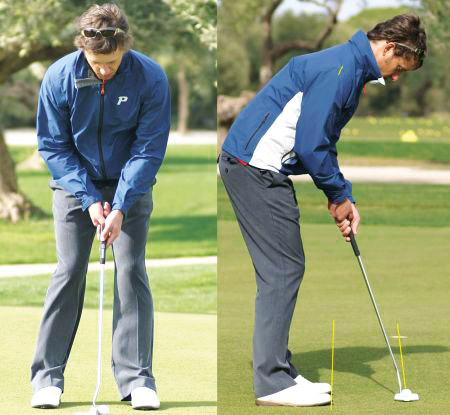 1. Setup and Aiming
A proper setup position is a prerequisite of a good putt. Setup includes body posture, gripping the putter, alignment of body relative to the ball and the target line, and aiming of the putter itself.
YipsCure - Root out of the Trouble
Learn more about SAM Yips Cure and watch an Instagram session with renowned putting coach Phil Kenyon.
5. What the Experts Say
Recording of an Instagram live session about Yips with Phil Kenyon and Dr. Christian Marquardt (Mai 7, 2020):
SAM PuttLab Product Demo 2021
Recording of the SAM PuttLab online live seminar at the SAM Virtual Product Show February 2021 (YouTube playlist).
SAM PuttLab Product Demo 2020
Recording of the product demonstration at the SAM PuttLab live online events in April 2020 (YouTube playlist).
Scientific Research on Putting
SAM PuttLab suits perfectly for doing scientific research on putting. Many international Universities already use SAM PuttLab to conduct putting studies. The data can be very easily collected, and subsequent data analysis is completely automated in the PRO edition. Even group data can be analysed by key press. Different levels of analysis are available: data per stroke, data per session (averages and SD), both stroke and session data per group, and a full player data listing. Export formats allow to directly read in the results e.g. in Excel or in SPSS.
SAM 3D-Putt Add-on
Learn more about the SAM 3D-Putt 2.0 software add-on, including many new functions like the Swingplane view, the 3D Putting Template and the Launch Report (YouTube playlist).
SAM PuttStudio Live Presentation 2021
Introduction in the SAM PuttStudio with Christian Marquardt at the SAM Virtual Product Show February 2021.
SAM BallTracker
Performance analysis on straight and breaking putts (YouTube playlist).
The Performance Parameters
Easy Drills for a Better Balance