Putting Perfection Platform
The perfect combination with SAM PuttLab
SAM PuttLab training on Putting Perfection Platform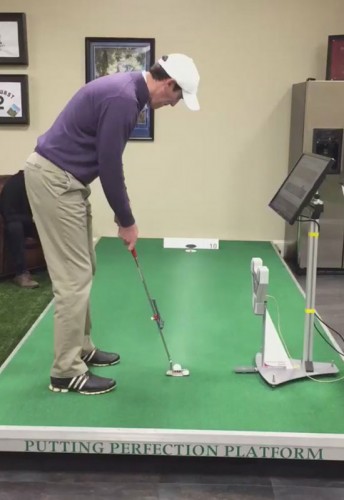 Understand the mechanics of breaking putts
The ability to read a green and then to accurately play the breaking putt is one of the most important skills for low scores on the course. The tiltable Putting Perfection Platform now brings the course into your lab and allows creating true putting situations with breaking putts of different angles and distances.
By combining SAM PuttLab with the Putting Perfection Platform you add instant and accurate feedback on the read of the green and on the putt played.
The instant feedback of aim angle, face at impact, putter path, face rotation, or putt speed will substantially help to understand and learn the mechanics of breaking putts and will significantly improve your ability to read greens and aim the putter properly to the true aim spot.
Putting Perfection Platform – The ideal surface to putt on
Putting Perfection Platform Locations
University's Programs
Campbell University, Clemson University
Florida State University, Indiana University
Ohio State University, Ball State University
University of Nebraska, Notre Dame University
Arizona State University
Public Facilities
CORE Golf Performance, RGG Consulting, LLC
Private builds
Tampa (FL), Johns Creek (GA)
Great Neck (NY), St. Louis (MO)
Hawley (PA), Philadelphia (PA) 
Private Clubs
Baltusrol Golf Club, Trump National Doral
White Columns Country Club, Skokie Country Club
Pine Needles Lodge & Golf Club
Teaching & Fitting Facilities
TaylorMade Golf HQ (Toronto, Canada)
1 Under Golf (Cincinnati, OH)
Don Parsons Golf Academy (Goleta, CA)
True Spec Golf
Boston (MA), New York (NY)
Columbus (OH), Phoenix (AZ)
Miami (FL)
Main Features
provides scalability to fit any environment(standard model is 5.5 by 14 feet) 

uses machined stabilizers for static level on any surface and/or twelve volt electric actuators for motion control

achieves a static level to a maximum of 14% slope or 8 degrees in seconds*

includes state of the art turf material from Truline Putting Greens

ensures safe, stable and consistent results
*for wired units (wireless unit: 6% or roughly 4°)
Adjustable platform replicates a variety of green speeds or break points
Putting Perfection Platform is a raised aluminum adjustable planar practice surface that can be scaled to fit any teaching academy, fitting studio, home or office that is looking for the perfect surface to putt on. Electrically adjustable actuators allow the planar surface be modified to a variety of speeds or break points and the Truline surface is the perfect compliment to this lightweight durable unit. The standard model is 5.5 by 14 feet which is the perfect length required to teach with SAM PuttLab. 
The Putting Perfection Platform offers safe, stable and consistent results. For golf learning centers it offers year round revenue generation regardless of outside weather. Golfers may train at their convenience and instructors may use the Putting Perfection Platform in conjunction with putting training aids for straight or breaking putts.