Software modules of SAM PuttLab
Measurement – Performance and consistency measurement
Training – Specific instant feedback for all relevant aspects
Screen reports – Result display in screen format
Print report – High quality printouts, PDF export and Email
Competence profiles – Direct comparison of different measurements
Protocols – Standardized measurement & analysis sessions
Games – Training with fun for up to 4 players
Video integration – Automatic recording per putt
Mediafile integration – Managing text and picture files
Download a free demo version of SAM PuttLab software!
New Features of SAM PuttLab 5.1
Valuable add-ons and improved reports
Supports the new SAM 3D-Putt

Supports PuttLab App (available for iPhone/ iPad)

New time line history report

New one page player performance report

Improved putter fitting "EasyFit" protocol

(learn more)

 
Check out our short presentation video for SAM 3D-Putt
Putting analysis in the 3rd dimension
SAM 3D-Putt* is a brand new addon to the SAM PuttLab 5.1 software. See all putts in realistic 3D graphics and motion.
View realistic putter movement from different angles

Automatic live replay after each putt in Training mode

Display additional info like putter path or face angles
Download free demo version incl. sample putting strokes:
*Please note: PuttLab 5.1 software license is required to use SAM 3D-Putt
See all features in detail in our tutorial video
Control your PuttLab with the App
PuttLab 5 allows users to remote control the PC software with the PuttLab App on smartphones or tablet computers. The iOS app offers direct remote control of the most important functions of SAM PuttLab: System calibration, starting measurements or training sessions, and opening the results reports.
All data and the reports can be accessed through the App and can be stored locally on the device or on a cloud storage (Dropbox). The reports are available on the app as a picture gallery. Comments or media links (YouTube etc.) can be added to the reports and then sent to the client by Email. All available data can also be shared on Facebook and Twitter.
Main Features of the App
Operate SAM PuttLab remotely with iPad/iPhone

Browse through player reports offline

Add comment to reports and send by Email

Share data via social media

Add photos or live videos from the device camera

Upload PuttLab results to Dropbox or iCloud

Access to PuttLab reports wherever you are
Tutorial Videos (Step-by-step instruction)
Precise analysis of your strokes
The results of the putting strokes registered with the SAM PuttLab are displayed in concise graphic reports. A variety of graphic reports are delivered with the system. Each of the 28 parameters measured can be included into the clearly presented data display.
Graphic reports – perfect presentation of results
Multi-page reports for display on the computer screen

High resolution graphic printouts and PDF

Simple and expert reports
NEW: One page Performance Report
The new one page performance report presents a very easy to understand overview on the putting performance. It is a good report to be given to the student without confusing him with too much details of the data.
The traffic lights signs on the right side correspond to the Consistency of a player and represent the repeatability of a putting stroke.
Technical aspects

Average results

Consistency

Overall performance

Displayed on one page
NEW: Timeline History Report
The History Report displays the performance of a player over time in a line chart. The displayed data will be sorted due to the date of data recording. So a comparison of the performance values on different aspects of putting is possible.
Profiles – Compare measurements/ putters
Directly compare up to 8 recordings

Compare different training situations of different putters

Track your training success over time
Training reports – Extended screen report
The results for each stroke are immediately displayed on the screen. This KR (knowledge of result) feedback has proven to be the most successful training method in learning skilled movements.
The PRO training reports comprise 10 different report screens (check out reports gallery below). Switching between the different views is possible at any time.
Print report examples: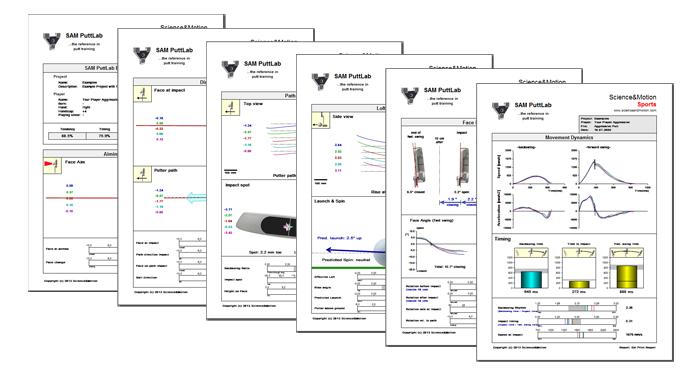 Print reports – High res. graphic printouts
High resolution graphic printouts and PDF

Can be directly sent to the student via Email 

Individual logos can be inserted
Download print report examples:
| | | | |
| --- | --- | --- | --- |
| SAM PuttLab 5 Features |  Basic  |  Standard  |  Pro  |
| Tablet remote control (iPhone/iPad) |   |  x |  x |
| Analysis of 28 Putting Parameters |  x |  x |  x |
| Training module |  x |  x |  x |
| Putter Fitting module |   |  x |  x |
| Protocol driven analysis sessions |   |  x |  x |
| Print Reports with PDF and Email export |   |  x |  x |
| Video recording module |   |  x |  x |
| Competence Profile reports |   |  x |  x |
| Customizable  Report logos |   |  x |  x |
| Audio Feedback in Training |   |  x |  x |
| Putting games |   |  x |  x |
| 3D-Putt module |   |   |  x |
| Database export / Statistics module |   |   |  x |
| SAM PuttStation + Alignment laser |   |   |  (x)* |
| Yips analysis (wrist measurement) |   |   |  x |
| Head movement analysis |   |   |   x |
| Triplet Clips |  1 |  2 |   5 |
 Toolbar

 Data selection area (projects, players, sessions)

 PuttLab programs bar