[vc_row][vc_column][vc_single_image image="16934″ img_size="full"][vc_column_text]
2019/04/26. On the 24th of June 2019 Science & Motion Sports will conduct their next Level 1 online certification.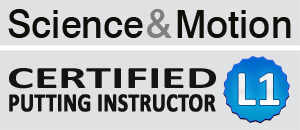 SAM PuttLab Level 1 certification
Monday, 24th of June 2019
8 AM to 12 AM CDT (Central Daylight Time)
3 PM to 7 PM CEST (Central European Summer Time)
Presenter: Dr. Christian Marquardt
Link to our online booking portal: Event is over

Content of the certification course:
SAM Putting Instructor Certification Level 1 (240 minutes)
"Understanding how Tour Pros Putt (The 6 fundamental aspects of putting)"
The SAM Putting Instructor certification program is the most comprehensive scientific approach to putting ever developed. The 3 certification levels cover the complete range from the physics of putting, measurement and analysis of a putting stroke, PGA Tour data samples based on the 6 fundamental aspects of putting, as well as scientific basics of motor learning and motor control. Also included are the practical aspects of putting instruction and training concepts based on the hierarchy of movement. Certified SAM putting Instructors will receive a document and will be listed on the SAM web page.
The objectives of the SAM Level1 certification seminar are amongst others:
Professional use of SAM PuttLab

Data evaluation and example measurement

SAM Tour data statistics

The 6 fundamentals of putting

SAM EasyFit fitting protocol

Practical session (onsite seminars only)
The certification Level1 seminar introduces into the concept of the 6 fundamental aspects of putting. The attendees will receive in depth "hands on" training in the use of SAM PuttLab for measuring and analysing putting, including interpretation of the results reports and the use of putting performance profiles to tailor subsequent training sessions. The seminar will also present a step by step putter fitting protocol. Additionally the latest software enhancements are demonstrated.
If you want to learn all about SAM putting analysis and putter fitting, then sign up to become a certified SAM putting instructor Level1.
Who should participate? Instructors, Coaches and Club Fitters.
Price US$ 350.00
[/vc_column_text][/vc_column][/vc_row]