SAM PuttStudio
THE COMPLETE PUTTING EXPERIENCE
The new SAM PuttStudio is the most advanced putting studio worldwide. It is a modular system and can be customized to your individual needs. SAM PuttStudio extends the abilities of the SAM PuttLab to the ultimate level and encompasses all the different functional areas to improve your putting, including putt stroke analysis, ball performance analysis, high-speed video, balance analysis or break putt training.
The SAM PuttStudio provides the perfect learning environment to work on all relevant aspects of putting, improving green reading abilities and understanding the mechanics of breaking putts, analysing ball performance for putter fitting and putter selection, or running playful and adjustable training programs and gaming.
Discover Your Options
A STUDIO SETUP TAILORED TO YOUR INDIVIDUAL NEEDS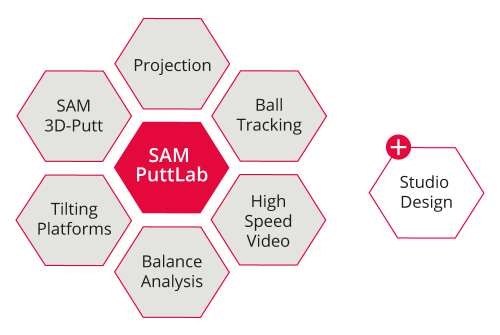 The SAM PuttStudio is fully scalable, from just using selected parts of SAM integrated technology up to a full studio setup including turf or putting platforms, wall design and screens or projectors. Pre-configured computers and our iPad app allow smooth, easy and synchronized operation of all systems.
A high performance Windows PC/ Laptop is needed
i5 or i7 high performance Quad Core CPU with 2 GHz or better,
no power saver model (last letter "U" like i7-5600U).
Please ask us for specific models.

Windows 7, 8, 8.1 and 10 (64 Bit)

8 GB RAM (better 16 GB)

10 GB free disk storage space

one free USB 3.0 port

Internet access for software updates or remote service recommended

PuttLab 6 system needed to run SAM BallTracker software
SAM PuttLab – Analyzes the putter movement
SAM 3D-Putt – Visualizes putter movement & ball paths in 3D
High Speed Video – Provides high speed video synchronized to PuttLab recordings
SAM Projection – Transforms any putting green into an interactive learning environment
SAM BallTracker – Tracks your complete ball performance
Moving putting platforms – Helps you to unterstand the mechanics of breaking putts
SAM BalanceLab – For stance and balance analysis