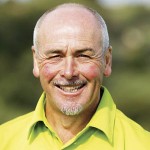 Keith  Williams
PGA Europe Tour Coach
WHAT THE EXPERTS SAY
"Significant and important approach"
"As soon as I had worked with the system myself, I realized what an innovative and significant piece of eqipment it is. … Knowing exactly what is happening during the putting stroke can mean a significant and important change of approach to helping coach golfers at all levels. Ultimately it's about helping players get better results."
Instant feedback for most efficient learning
Using the SAM PuttLab training mode offers you the ability to customize individual training strategies and improve specific aspects of the putting stroke, for example, the putter face angles, face rotation, swing path, impact spot, swing time duration or stroke rhythm.
Click here to read more
After customizing your individual training strategy with SAM PuttLab you can adapt your training to it and practice specific aspects of your putting movement. After each stroke you get immediate feedback of the results. You can directly see the difference compared to the last strokes and discover how close they came to the ideal. This ingenious feedback guarantees immediate and lasting training success.
10 training screens for all relevant aspects

Guarantees immediate and lasting training success

Instant graphical, numerical or audio feedback after each putt

Data for each putt stroke, data averages, benchmark charts

Direct comparison to average PGA Tour performance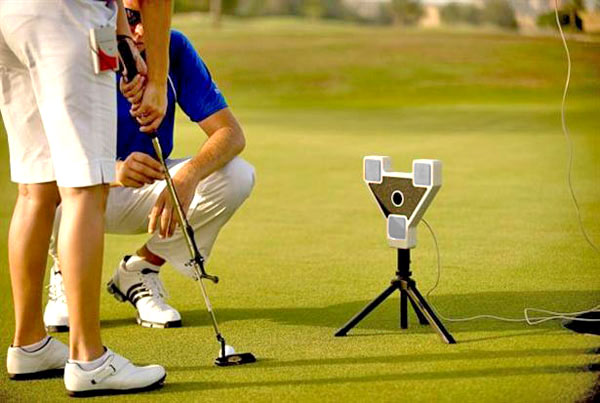 Click here to read more
The use of SAM PuttLab is not limited to a controlled indoor environment. Using SAM PuttLab outdoors offers many additional options such as measuring on breaking and sloping greens or measuring putts a different distances.
Offering group courses on different levels

Offering specific training modules

Comparing different situations on the green

Before/ after reports for success control
Click here to read more
Other different services around putting: instruction, training, fitting, team evaluation

Increases the quality of your customer base

Generate impact during winter
Complete solution for professional putter fitting
The SAM fitting protocols offer a complete solution for professional putter fitting. Each relevant putter aspect is diagnosed in an interactive step by step process. The software provides automatic data analysis and suggests the suitable options. Results are displayed in specific graphic reports.
Click here to read more
The EasyFit protocol is a one measurement process using a length fitted putter: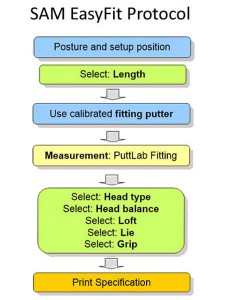 The PerfectFit Protocol is a two measurement process using the customers putter in the first step.
Advantages of SAM PuttLab fitting:
Interactive putter fitting process

Automatic fitting recommendations

Complete fit on grip, length, loft, lie, head, balance, weight

Comparison of different configurations
Improve your business by selling fitted putters
SAM PuttLab offers a turnkey solution to support putter sales in a shop environment. The SAM comparison protocol directly compares the customers' performance with different putters, an extremely smart way to select the best putter inside of minutes.
Click here to read more
The graphic result report reveals the difference in overall performance as well as in detail information on all relevant putting aspects. Additionally, the SAM Easy fit protocol can be run to adapt further details of the putter.
Standardized putter comparison protocol

Dialog guided sessions

No expert knowledge needed

Direct graphic report of results

Additional in detail analysis available
Putter selection report example: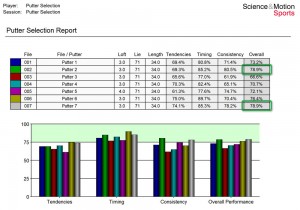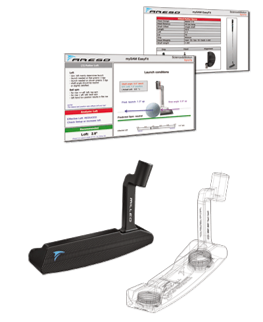 Click here to read more
The data can be very easily collected, and subsequent data analysis is completely automated in the PRO edition. Even group data can be analyzed by key press.
Different levels of analysis are available: data per stroke, data per session (averages and SD), both stroke and session data per group, and a full player data listing. Export formats allow to directly read in the results e.g. in Excel or in SPSS.