SAM PUTTSTUDIO
First Fully Integrated Putting Solution
SAM PuttStudio
THE ULTIMATE TRAINING ENVIRONMENT
The SAM PuttStudio combines the market-proven SAM PuttLab with our latest ball tracking & projection technology. In addition to the world's leading putting analysis the SAM PuttStudio offers an unique training environment for putting: Extensive putt analysis, individual performance profiles for players, tasks and training drills projected onto the surface, optional tilting platforms for feedback guided break putt training, or additional synchronized video feedback – an endless variety of applications make it possible to systematically analyze & improve any relevant putt aspect.

Client Studio Installations
The Rob Mouwen Putt Academy in Heusden, Netherlands, is one of the most advanced putting studios on this planet: The extensive indoor area is equipped with the latest SAM PuttStudio technology, including projection, synchronized video and 3D replay, SAM PuttLab and ball roll analysis, and a tilting platform for feedback guided break putt training.
For me the SAM PuttStudio is the number 1 coaching tool. Especially now with the new projection and skills drills. I can challenge my players after a training. Even without using the triplet. The combination ball tracking and projection is a real game changer in putt coaching.
Perfect Upgrade for SAM PuttLab Users
SAM PuttStudio extends the abilities of SAM PuttLab into a fully integrated learning environment for putting. Live feedback projected onto the green or self-guided drill protocols support the training and lead to significant and ongoing improvements. If you already own a SAM PuttLab system with wireless Triplet technology, we offer a SAM PuttStudio upgrade at a special rate.
UPGRADE YOUR SAM PUTTLAB TO A FULL SAM PUTTSTUDIO
SPECIAL DISCOUNTS FOR EXISTING SAM PUTTLAB USERS
SAM PuttStudio Applications
SAM PuttStudio can be used with a flat putting surface as well as with statically inclined surfaces or in combination with a tilting platform. Tilting platforms give you the incredible possibility of feedback guided break putt analysis and training.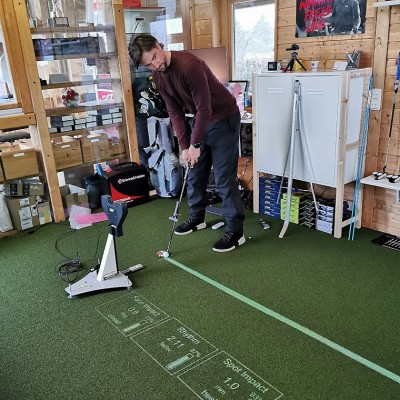 Flat Putting Surface
On a flat putting surface, the ball tracking and projection technology of SAM PuttStudio add a complete ball roll analysis and visual feedback to your training sessions. Live feedback, visual cues, multiple and virtual targets, or sophisticated self-running drill protocols help you to bring your putting skills to the highest level. Easy to play (and hard to master) games are included to compete with your friends.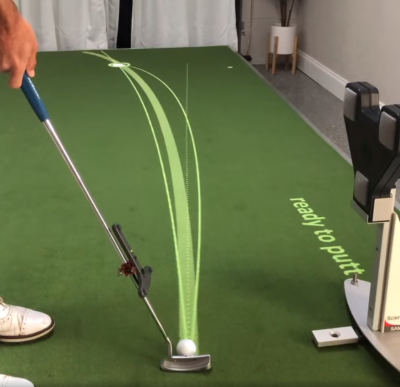 Inclined Surface
The combination of SAM PuttStudio with an inclined putting surface opens up the world of unprecedented break-putt analysis and training. Live aim, ideal aim, ideal path and speed, or putting corridors; the ingenious feedback makes it easy to understand the critical interdependency of face angle and speed on any breaking putt.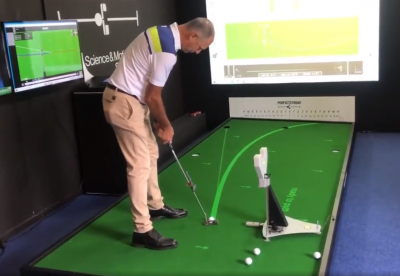 SAM PuttStudio and a tilting platform extend the abilities to the ultimate level. Break & pitch can be adjusted within seconds to practice any slope like outside on the golf course. All the displayed feedback will adjust automatically to systematically improve your reading abilities on breaking putts. Comprehensive putting combine tests check your performance for a variety of distances and slopes. Specific break putt games combine learning and fun.
Improve all Aspects of Your Putting
SAM PuttStudio provides the perfect learning environment to work on all relevant aspects of putting, improving green reading abilities and understanding the mechanics of breaking putts, analysing ball performance for putter fitting and putter selection, or running playful and adjustable training programs and gaming.
SAM PuttLab has always allowed me to provide tangible proof of improvement for my students. The latest addition of the SAM PuttStudio now expands those opportunities to more real world scenarios including breaking putts. It's the most complete system available for coaching and understanding how players can perform their best.
2022 Golf Digest Best in State Teachers (USA)