NEW: SAM BalanceLab 3 Ultimate Edition


Ultimate Edition – Tutorial Videos
Innovative new Feature
Proper and timely weight transfer during the swing is an integral part of successful golf. However analysis of ground reaction forces is often complicated as the COP patterns are very much individualized and additionally critical to timing. The SAM BalanceLab 3 Ultimate Edition now introduces innovative Performance Parameters and extended data curve diagrams to objectively analyze ground reaction forces in a golf swing.
The Performance Parameters are grouped into three functional categories for SETUP, POWER and CONTROL, and are calculated based on corresponding data curves for COP position, COP movement and Downforce.
Using the Performance Parameters in combination with the launch monitor data is a perfect tool to systematically optimize the individual weight transfer characteristics with regard to distance, ball flight and consistency.
Click here to download a PDF with detailed information about the Performance Parameters
More new Features of BalanceLab 3 
Extended data curves for COP position and COP movement speed (only in Ultimate Edition)

Automatic detection of feet position in setup (only in Ultimate Edition)

Display of feet orientation, feet distance and stance angle (only in Ultimate Edition)

Automatic recording based on audio impact detection (microphone)

Automatic data crop and segmentation based on impact position

Optimized video recording engine for perfect frame by frame synchronization

Selection of club type data for each recorded swing
Click here to download a PDF with detailed information about all new Features of SAM BalanceLab 3
SAM BalanceLab data curves
Data curves provide insight
SAM BalanceLabs' data curves help to better understand the individual dynamic patterns of balance and weight shift. This information allows tailoring individual training interventions to substantially increase the efficiency of a golf swing. Based on the data curves relevant COP parameters can be derived such as maximum downforce, frontal and lateral COP shift range, timing of COP shift or maximum COP speed.
Different views for relevant swing data
SAM BalanceLabs' data views are presented in screen graphics and as printable PDF reports. Reports can also be sent by Email directly from the software.
"MOST ACCURATE PIECE OF EQUIPMENT"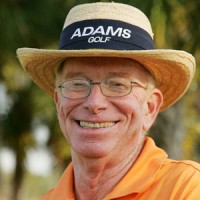 "As someone who has been trained in Biomechanics and over 40 years of teaching experience, I can honestly say that the SAM BalanceLab is the most accurate piece of equipment on the market today. It not only analyzes the ground reaction forces accurately but also arms you the teacher to interpret the information efficiently."
DR. JIM SUTTIE,
2000 National PGA Teacher of the Year
BalanceLab general operation
Learn how to get started with the software, register players and start recordings:
Learn about the different options and data views of the data replay screen:
Download a free demo version of SAM BalanceLab software!
Two different editions of SAM BalanceLab 3
The BalanceLab 3 software now has two different editions, Pro and Ultimate. New features that are only available in the Ultimate edition. The table below shows a quick overview which of the features are included in the two product editions.