SAM PUTTLAB CLIENT VIDEOS
Watch YouTube videos from our clients about training and fitting with SAM PuttLab and about SAM 3D-Putt.
Watch a SAM PuttStudio teaser with Preston Combs (2020 Golf Digest Best in State Teachers, 2018 SCPGA Northern Chapter Teacher of the Year).
Improve your putting and your students with the new SAM PuttStudio and combine ALL relevant putting parameters in ONE solution.
Watch a SAM PuttLab lesson with Harold Swash Putting School Lead Coach Lee Sullivan in England.
Golficity are visiting Kevin Sprecher at the Sleepy Hollow Country Club for a putting lesson. They dive deep into putting stroke, equipment, alignment, and more with some in-depth stats from SAM PuttLab.
AskGolfGuru Mark Crossfield and Golf Coach Glenn Billington showing how the golfers set up can be improved by using SAM PuttLab for putting stroke analysis.
Mark Crossfield and Glenn Billington talking about increase of consistency in putting.
SAM PuttLab is used to analyse the players dynamic loft at impact to determine the ideal parameters for a good ball roll.
SAM PuttLab putting analysis from PGA Teaching Professional Preston Combs (Preston's Putting, Santa Barbara, California) – shifting the face and path relationship.
Improve your face control & stroke! Preston Combs uses the SAM PuttLab with the 3D-Putt Software and Visio Mi Putting Template to create a stable environment.
Mark Crossfield and Coach Lockey take a look at his putting issues with SAM PuttLab technology.
With the use of SAM PuttLab Mark Crossfield shows measured facts on putting and how it can effect delivery and stroke.
Six and 13 handicap golfers get fitted using the SAM PuttLab in the Golf Monthly 'Tested By You' feature.
Putter Fitting by American Golf with SAM PuttLab.
Comparison report is a nice feature of SAM PuttLab – see how Mark Crossfield uses it to compare different putters.
Mark Crossfield shows with SAM PuttLab how the aim line on putters effects the aiming.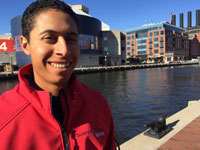 "Science & Motion Sports recently developed new technology that allows players to not only read their SAM PuttLab report, but also see what each individual stroke looks like. Players and teachers now have visual reference for key parameters such as path, impact spot, face angle, shaft lean, and much more. If you own a SAM PuttLab, it's a great addition that I highlight recommend."
PRESTON COMBS
PGA Teaching Pro, Level 3 Certified PuttLab Instructor
See how Preston Combs (Preston's Putting/Santa Barbara, CA) uses the 3D-Putt-Feature of SAM PuttLab.
Preston Combs interprets the acceleration parameter on SAM PuttLab.